MathType

appears in full-screen mode and will not re-size
The information on this page applies to:

MathType 6.9 and later

Windows 10
When you open MathType, it fills the screen. You can't "restore" it or change the size of the window: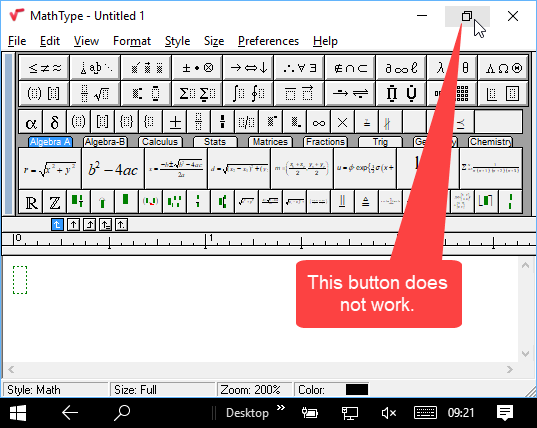 Your computer is in Tablet Mode.
Turn off Tablet Mode.
The easiest way to do that is to click the "Notifications" icon in the lower right. It will look like one of these, depending on your settings and whether there are notifications you haven't read yet:

When you click the Notifications icon, you'll see the Tablet Mode on/off switch:

You'll likely want to change your system settings, so your computer doesn't boot up in Tablet Mode next time you boot. To do that, press & release the Windows Logo key to the left of your spacebar: . Type the words tablet mode. The "Best match" should be "Tablet mode settings". Click it.

You'll see something like this:

Yours may look slightly different, but they'll all have an option to start up in "desktop mode" or "go to desktop" or something similar. Whatever the exact wording on yours, choose the "desktop" option.
That's all there is to it. Your computer should now be out of tablet mode, and the windows should behave normally.

We hope this has been helpful. As always, please let us know if you have questions about this or if you have additional techniques that work. We'd love to hear from you.