Crear y guardar una sesión de 
CalcMe
Crear una sesión de 
CalcMe
Para crear una sesión deCalcMe, debes dirigirte a https://calcme.com desde tu navegador y se abrirá una sesión en blanco.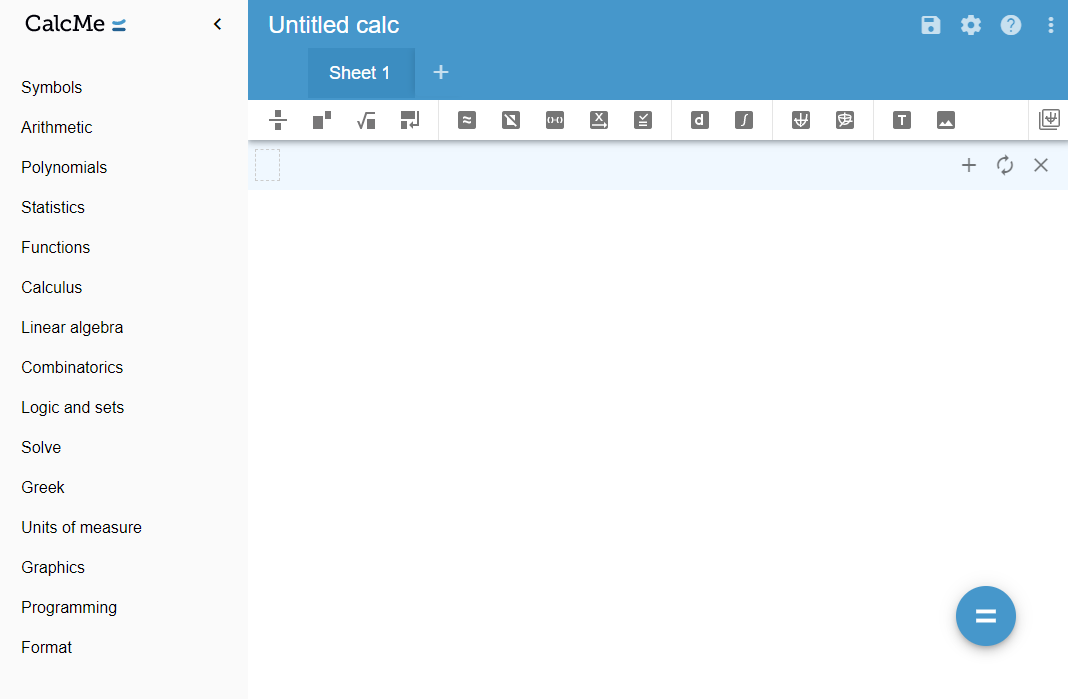 Si quieres ver detalladamente cómo está estructurada, echa un vistazo a la sección dedicada a su interfaz de usuario.
En la barra superior, podemos ver el título del documento así como las diferentes hojas creadas. Al guardar la sesión, esta tendrá el nombre del título que le hayas dado. Recuerda cambiarlo para poder distinguir tus archivos y poder entregarlos adecuadamente.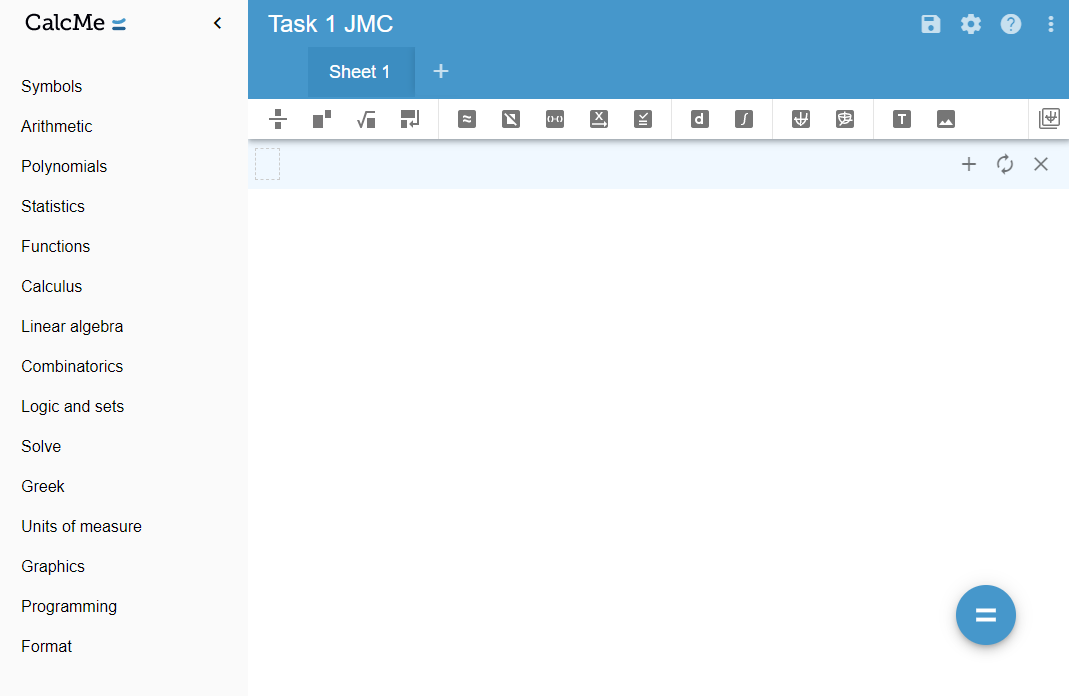 Del mismo modo, también es posible añadir hojas, cambiar su nombre y reordenarlas una vez creadas. Puede serte muy útil para organizar tu trabajo.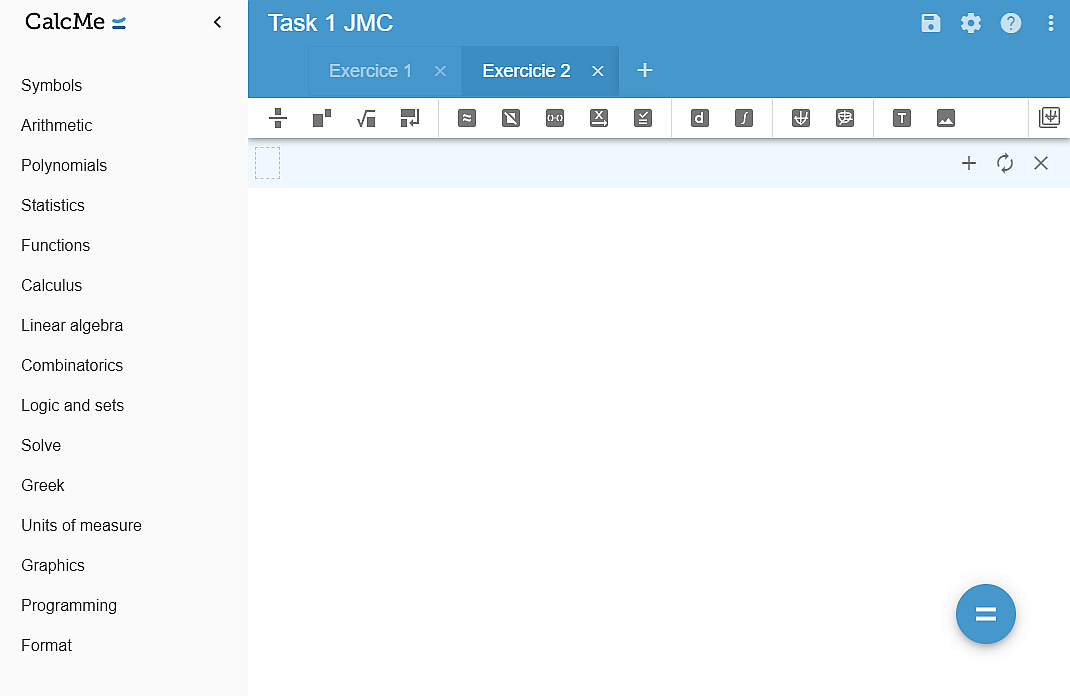 Una vez creada la sesión, puedes realizar un gran abanico de cálculos matemáticos complejos de manera autónoma, rápida e intuitiva. Por otro lado, entre las diferentes instrucciones que definas, también puedes añadir comentarios para hacer más fácil su comprensión. Simplemente debes utilizar la acción Texto o utilizar el atajo de teclado Ctrl+Shift+C.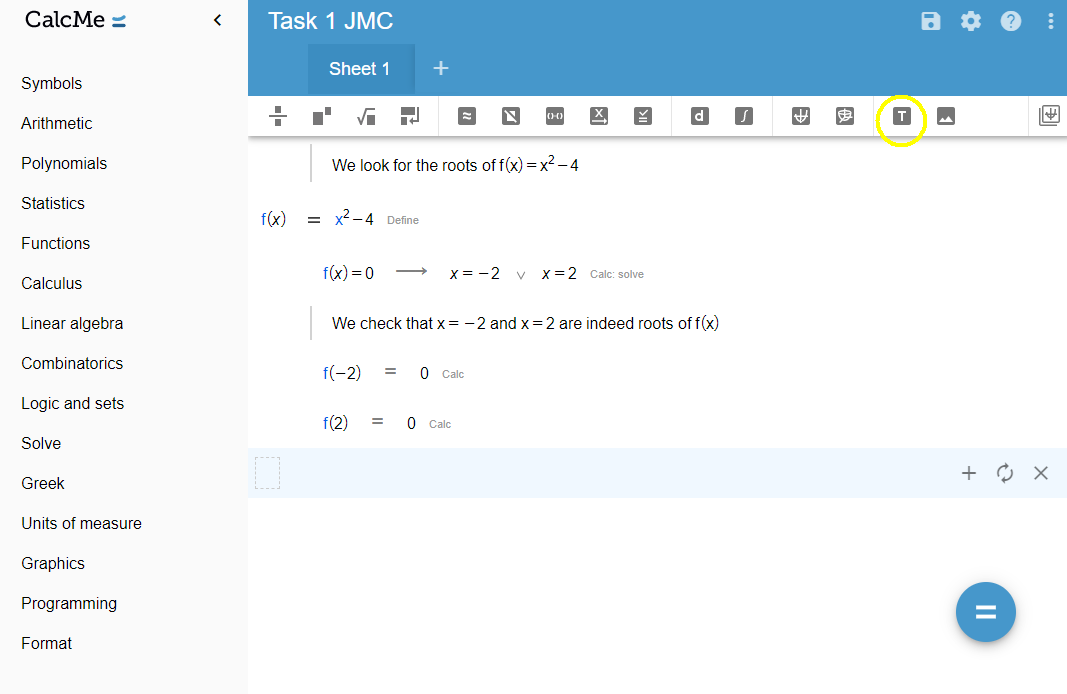 En lo que se refiere a el almacenamiento de contenido, CalcMe utiliza almacenamiento en línea por defecto. Sin embargo, también puedes descargar y guardar sesiones en tu dispositivo (ordenador de sobremesa, portátil, etc.).
Para guardar en línea, simplemente pulsa Archivo > Guardar y haz clic en En Google Drive: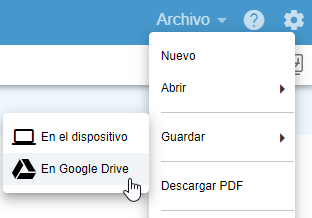 Cuando guardas o abres una sesión por primera vez, te pide que te acredites y des permiso a CalcMe para asociarse con tu Google Drive. Es posible que te llegue un correo de Google informando de los permisos proporcionados.
Una vez conectado, puedes ver tu foto de perfil en la barra de título, a la derecha.

También puedes hacer que las sesiones que abras con Google Drive te dirijan directamente a CalcMe. Simplemente debes ir a  Configuración > Administrar aplicaciones, y seleccionar Usar como predeterminada al lado de CalcMe.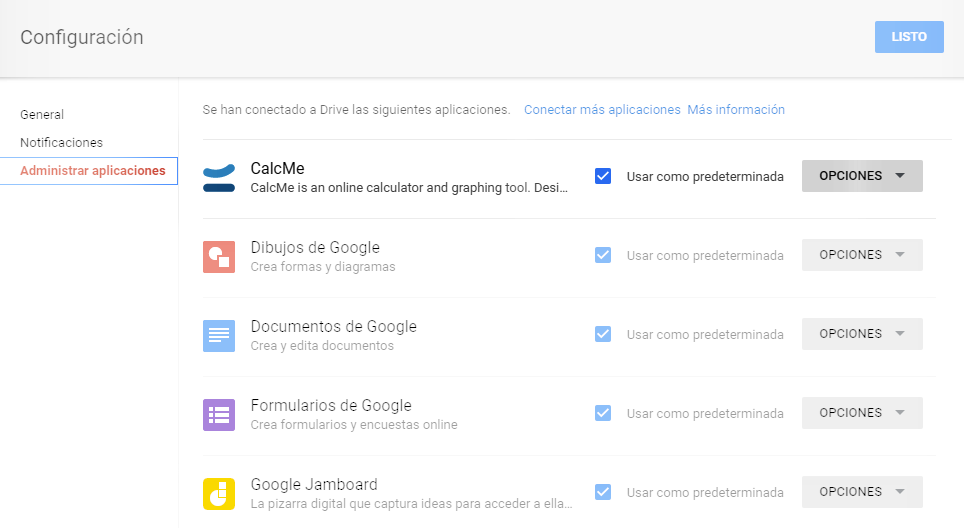 Crear nuevos archivos de 
CalcMe

 desde Google Drive
Además, una vez hayas asociado CalcMe con tu Google Drive siguiendo los pasos anteriores, podrás crear nuevos archivos de CalcMe directamente desde tu Google Drive. Simplemente pulsa en Nuevo en la esquina superior izquierda, y Más > CalcMe:
Para guardar sesiones fuera de la nube (en tu propio dispositivo), pulsa Archivo > Guardar y escoge la opción En el dispositivo: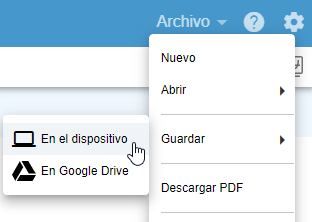 Ésto descarga un archivo de CalcMe el cual puedes abrir de nuevo con el botón Abrir > Desde el dispositivo del mismo menú desplegable.
Por otro lado, también puedes descargarte las sesiones en formato de PDF para entregarlas o poderlas visualizar sin necesidad de abrir la herramienta propiamente. La única limitación es que después no podrás volver a abrir el algoritmo si no lo has guardado también en alguno de los otros formatos. En el mismo menú desplegable, debes hacer clic en Descargar PDF.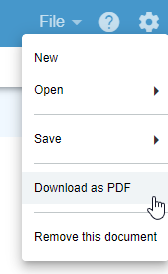 Acceder a la documentación de 
CalcMe
Más allá de esta guía de iniciación específica para estudiantes de la UOC, existe una amplia documentación de la herramienta que puedes visitar aquí. Esta está dividida en tres bloques:
Guía de usuario: Sección dedicada a introducir la herramienta a personas nuevas, para aprender sus capacidades y cómo utilizarlas.

Basic Guide to CalcMe: Section dedicated to introducing the tool to newcomers, covering both its features and how to use the tool.

User interface: Section dedicated to presenting the tool's user interface.

Menú: Sección dedicada a explicar detalladamente y mediante ejemplos todos los comandos presentes en el menú lateral de CalcMe.

Algorithm lines in CalcMe: Section dedicated to presenting a brand new way to define variables and create algorithms with CalcMe.

Graph: Section to explaining all the possibilities that the Graph has to offer besides being a straightforward viewer.

Commands: Sección dedicada a recoger todas las funciones y comandos disponibles en CalcMe. Ordenadas por categorías y alfabéticamente, de momento solo están disponibles en inglés.

Release notes: Section dedicated to reporting all the deployed CalcMe versions.