WirisQuizzes

Answer Types
In the left sidebar, you can find the Answer type panel. When choosing the type of response, there are several options in which we expect the student's answer format. Each of them will involve different settings, and you can see them on the corresponding linked pages.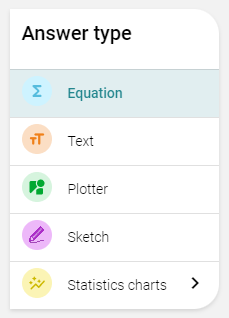 You can choose between the four possible options below:
Note
In previous versions of WirisQuizzes, you had to distinguish between mathematical expressions and quantities involving units. It won't be necessary from now on, and both options are included under the Equation option.