Transferring documents between Windows and macOS
The information on this page applies to:

MathType for Windows

MathType for Mac

Microsoft Equation 3 for Windows

Microsoft Equation Editor 2011 for Mac

Adobe Acrobat (Windows and Mac)

Adobe InDesign (Windows and Mac)

Adobe PageMaker (Windows and Mac)

Microsoft Word (Windows and Mac)

Microsoft PowerPoint (Windows and Mac)

QuarkXPress (Windows and Mac)
Many customers want to transfer documents containing MathType equations to another platform, but their equations are not correctly converted. Typical issues: inappropriate characters are substituted, textures are missing, equations cannot be edited, equations appear as empty boxes, or equations disappear entirely.
The biggest reason for incompatibility is the difference in graphics format between Windows and macOS. A contributing factor is that MathType uses some graphics formats are created with fonts. The equations will not be rendered faithfully if a font is missing or different between two computers.
macOS uses the PDF/PICT graphics file format. Windows uses the Windows Metafile Format (WMF). macOS does not support the WMF format and Windows does not support the PICT format. MathType for Macintosh, by default, creates PDFs with embedded PICT information. MathType for Windows, by default, creates WMFs. When you transfer a document containing embedded WMFs or PDF/PICTs to a different platform, many applications will attempt to convert the equations to the graphics format supported by the operating system when opening the document. For complex graphics that include characters from fonts, such as MathType equations, the conversion is rarely completely successful.
This notice addresses the following issues:
Updating Equations that use Object Linking and Embedding (OLE)
If equations were embedded into a document by using Object Linking and Embedding (OLE), i.e., by using a toolbar button in Microsoft Word or PowerPoint, using an Insert Equation, Insert Object, or Insert OLE Object command, or via copy-and-paste, the equations are PDF/PICTs or WMFs. If the equations were created in MathType saved as individual files and inserted or placed into a document, they may be WMFs, PDF/PICTs, Encapsulated PostScript (EPS), or Graphics Interchange Format (GIF) files and did not use OLE.
It is necessary to use MathType to convert WMFs or PDF/PICTs on the receiving platform for them to appear correctly. 
If you are using an application other than Microsoft Word, it will be necessary to double-click each equation to open it in Microsoft Equation, or MathType choose Save or Update from the File, and close the window.
You can use MathType to update MathType equations or Equation Editor equations, but they will be converted to MathType equations. Microsoft Equation and CorelEquation cannot edit equations created by other equation editors.
We include an add-in for Microsoft Word with MathType that adds commands to Microsoft Word for converting all the equations in a document in a single step. 
If you're opening a Windows document on a Mac (or vice-versa), it's necessary to run the Convert Equations command if you'll be working with the equations. Set the options to "convert" MathType equations to MathType equations, as shown below. This will convert/refresh all the equations to the proper metafile format on that platform. This isn't necessary if all you're doing is editing or reviewing the document's text. If you're sure there are no "OMML" equations in the document, that setting shown below isn't necessary, only the MathType one. Suppose you need to edit/view only one or two equations. In that case, you can accomplish the same thing by double-clicking the equation to open it in MathType Doing this or running Convert Equations will necessitate your colleague (or you) doing the same thing when opening the document on the other OS.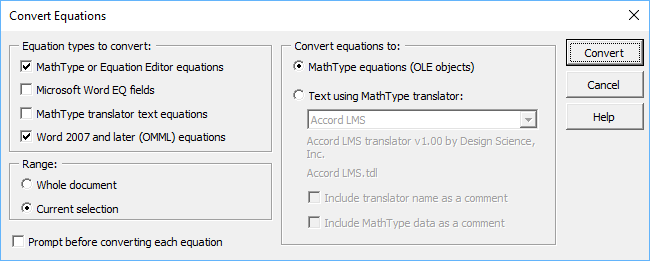 Documents Containing GIFs
If the equations have been saved separately as GIFs, or the document has been converted to HTML, which has the same effect, they should not need to be updated, as the Graphics Interchange Format is supported on both platforms.
Opening Pages documents in Word or reverse
This is generally not possible — not with acceptable results anyway. Same with PowerPoint/Keynote and Excel/Numbers. See MathType with Pages, Keynote, Numbers for more detail.

We hope this has been helpful. As always, please let us know if you have questions about this or if you have additional techniques that work. We'd love to hear from you.