Integrating
WirisQuizzes

via LTI on Canvas
WirisQuizzes for Canvas is an app that can be installed on Canvas as an External App. This deployment is LTI-based and connects to a back-end Moodle hosted on our servers.
You can include WirisQuizzes question types in your Canvas environment by following the instructions explained below.
The first step to using WirisQuizzes in a Canvas LMS is to install the External App in your Canvas course.
Before installing the application into your course, you need to get the login credentials for your institution.
Note
If you already have purchased your license and want to use your institution's Product Key, go to the Wiris store with your user/password for www.wiris.com and search for the Product Key of your WirisQuizzes LTI license. The Consumer Key is your institution's domain(your website is 'www.acme.net', the Consumer key will be 'acme.net').
Install the
WirisQuizzes

App via App Center
Once you have your credentials, you need to install the WirisQuizzes App via App Center by following these steps:
Log in to Canvas with an administrator account.

Navigate to the desired course and click Settings in the course navigation menu.

Select the App tabs in the course Settings screen and search for Wiris on the Search box.

Choose WirisQuizzes and click on Add App button.

Enter your credentials in the Consumer Key and Shared Secret fields.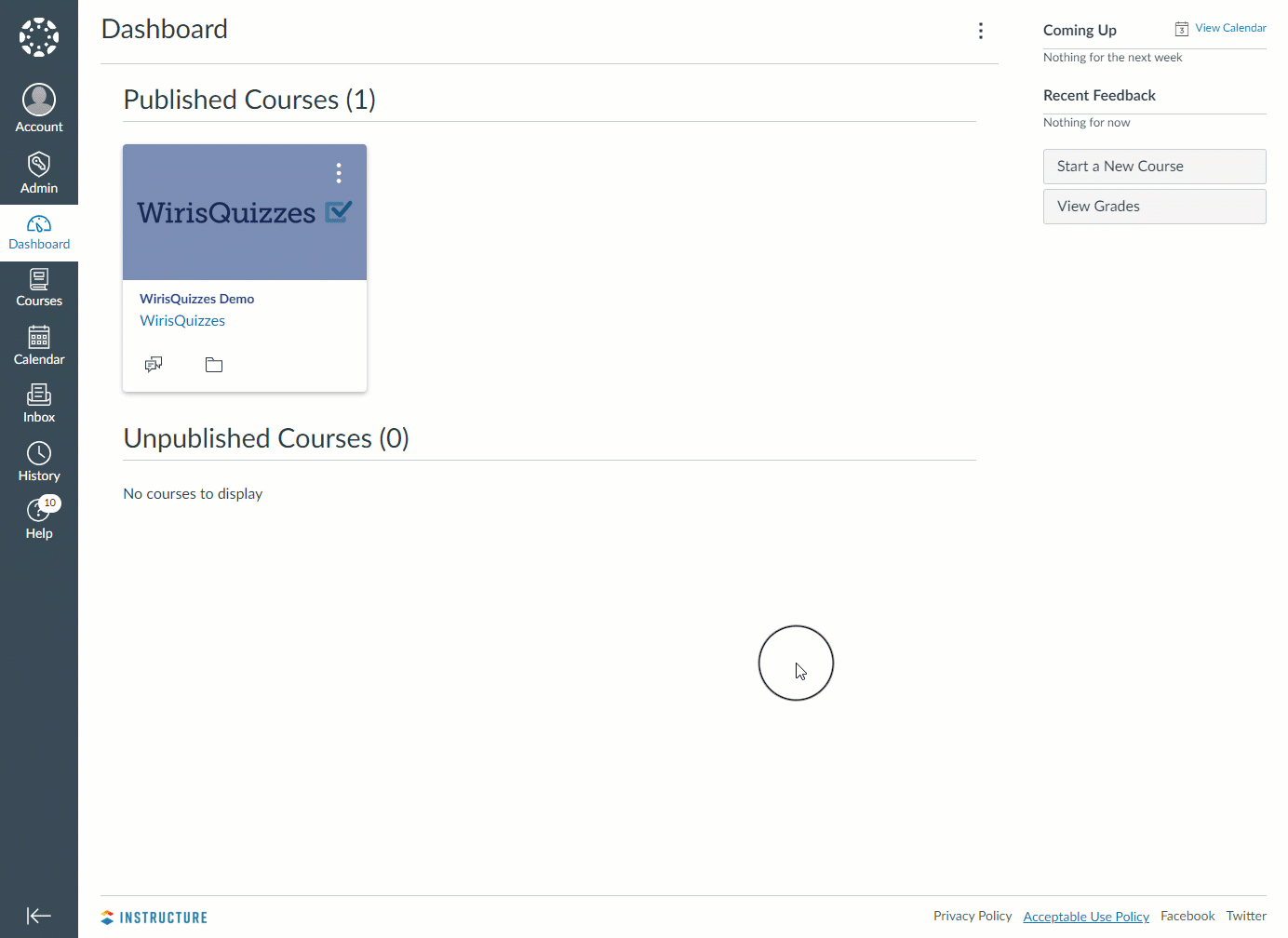 Finally, once the WirisQuizzes App is available for your teachers on the Canvas campus, you need to configure the back-end authoring platform by following the steps below.
Notice
The back-end authoring platform is a Moodle-based platform. This platform is provided by Wiris and located at https://quizzeslti.wiris.net/example.com/, where 'example.com' is the domain of your Canvas institution.

You are provided with a Manager account with high privileges to administer the authoring platform, although it is unnecessary for regular operation.
You need to use the manager account to define your corresponding profile. Follow the steps below to do so:
Go to the platform URL: https://quizzeslti.wiris.net/example.com/.

Contact WIRIS support to get the credential.

Change the password to a secure and private one.

Click Manager User in the top-right corner and select Profile.

Click the Edit profile link and set up the new email.
Students use the WirisQuizzes activities in their course without accessing other platforms besides their Canvas course. WirisQuizzes responses and grades may be later reviewed in the same manner as standard Canvas quizzes.