Now you can include Math & Science by Wiris question types in your Canvas course by following these instructions.
Try
WirisQuizzes

on Canvas for free: request a demo and free trial
Request a demo and free trial by filling out this form. Tell us a little about yourself, and we'll connect you with a WirisQuizzes expert who can share more about the product and answer any questions you have.
Is the content I create with
WirisQuizzes

stored forever?
While on trial: no
Keep in mind that this is a time-limited free trial where you connect to a demo authoring tool. Other organizations will not be able to see the content you create. However, we cannot be held responsible for any content lost during the trial period. The trial authoring platform is reset to its blank state every three months.
With a paid license: yes
If you proceed to buy a license for WirisQuizzes, a new credential will be issued. It is mandatory to change your trial credentials to your new unique credential. The content you created on trial will be deleted and cannot be restored.
However, once you start using your new credentials, your content will be securely saved forever.
To use WirisQuizzes in a Canvas LMS, the first step is to install the External App in your Canvas course.
Before installing the application into your course, you need to get the login credentials for your institution.
Note
If you already have purchased your license and want to use your institution's Product Key, go to the Wiris store with your user/password for www.wiris.com and search for the Product Key of your WirisQuizzes LTI license. The Consumer Key is your institution's domain(your website is 'www.acme.net', the Consumer key will be 'acme.net').
Notice
If you still need to purchase your license, don't hesitate to contact us at info@wiris.com.
Install the
WirisQuizzes

App via App Center
Once you have your credentials, you need to do the following:
Log in to Canvas with an administrator account.

In Canvas, navigate to the desired course.

In the course navigation menu, click Settings.

On the course "Settings" screen, select the Apps tab.

On the Apps tab, search for Wiris on the Search box.

Choose WirisQuizzes and click on Add App button.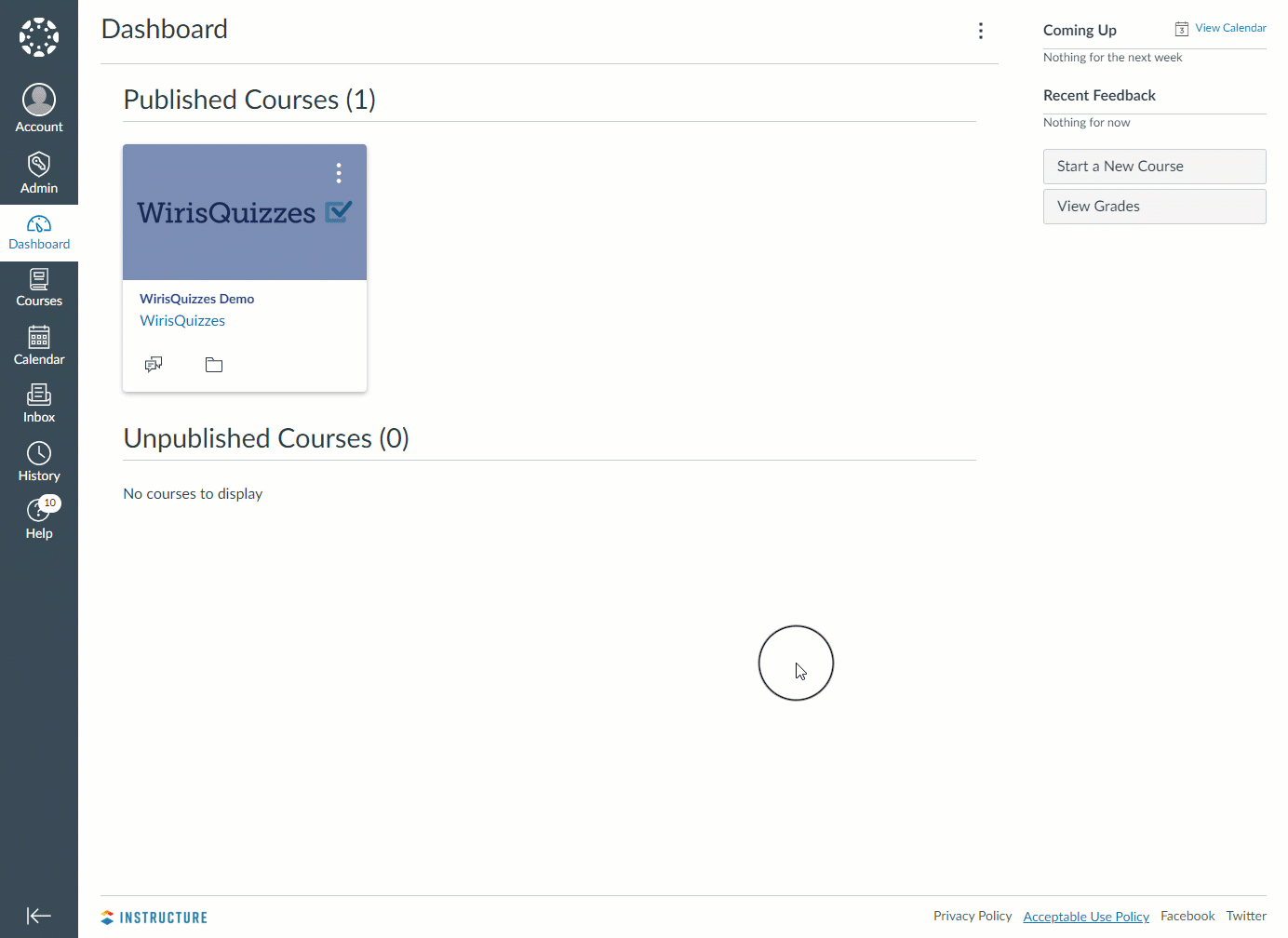 Enter your credentials in the Consumer Key and Shared Secret fields.
That's all! Now the WirisQuizzes App is available for your teachers on your Canvas campus. Continue with the following instructions.
Notice
The back end authoring platform is a Moodle-based platform. This platform is provided by Wiris and located at https://quizzeslti.wiris.net/example.com/, where 'example.com' is the domain of your Canvas institution.

You are provided with a Manager account with high privileges to administer the authoring platform, although it is unnecessary for regular operation.
Go to the platform URL: https://quizzeslti.wiris.net/example.com/.

Contact WIRIS support to get the credential.

The first time you log in with this account, you must change the password to a secure and private one.

Immediately change the account email.

Click 'Manager User' in the top-right corner and select 'Profile',

Then, click the 'Edit profile' link and set up the new email on the profile page.
Students use the WirisQuizzes activities in their course without accessing other platforms besides their Canvas course. WirisQuizzes responses and grades may be later reviewed in the same manner as standard Canvas quizzes.