WirisQuizzes

4.5.0 is here
Welcome to
WirisQuizzes

4.5
A faster, improved version of WirisQuizzes is here, and WirisQuizzes 4.5.0 release is out.
WirisQuizzes 4.5.0 has a new look and user experience, this new version also has a better performance.
To improve the user experience of the WirisQuizzes Studio.

To provide a more straightforward way to create content and add editing questions with WirisQuizzes.

To improve the speed performance of the WirisQuizzes Studio.
Where are we heading next? Help us get there
Next, we aim to simplify the random variables for WirisQuizzes by creating a simple vs pro mode and implementing a new feature that allows you to change the settings default and save it.
If this is something you would be interested in, we would love to receive your feedback and ideas; please drop us an email at team.quizzes@wiris.com.
Enlarged
MathType

and Graph editors
We know how difficult it can be to insert large equations and design detailed graphs on small editors. So, we've made sure to increase the size of our editors to make sure you have all the space you need to be STEM creative.
Auxiliary text input in initial content and correct answer sections
It can be difficult for new joiners in the WirisQuizzes community to distinguish between Initial Content and Correct Answer features. Actually, this single button change can make a big difference when using WirisQuizzes for the first time and the options for both Initial Content and Correct Answer features are endless. To make this onboarding journey as smooth as possible, we made sure to also introduce auxiliary texts to the Initial Content and Correct Answer sections. 
By clarifying that:
Initial Content - is the initial state of the answer editor that your students will see when attempting the question. 

Correct Answer -  the place where you can enter the correct answer for this question, you can modify the criteria used to compare it to your students' responses using the validation options menu.
We've also introduced a notification box where you can find product information and alerts with valuable links to our documentation and others.

This new feature behaves almost as a Fill in the Blank question by allowing you to lock the initial content and leave empty spaces for your student to input their answers.
You can access this new feature by going to Input Options > Initial Content > Lock Initial Content. You can see a live example below: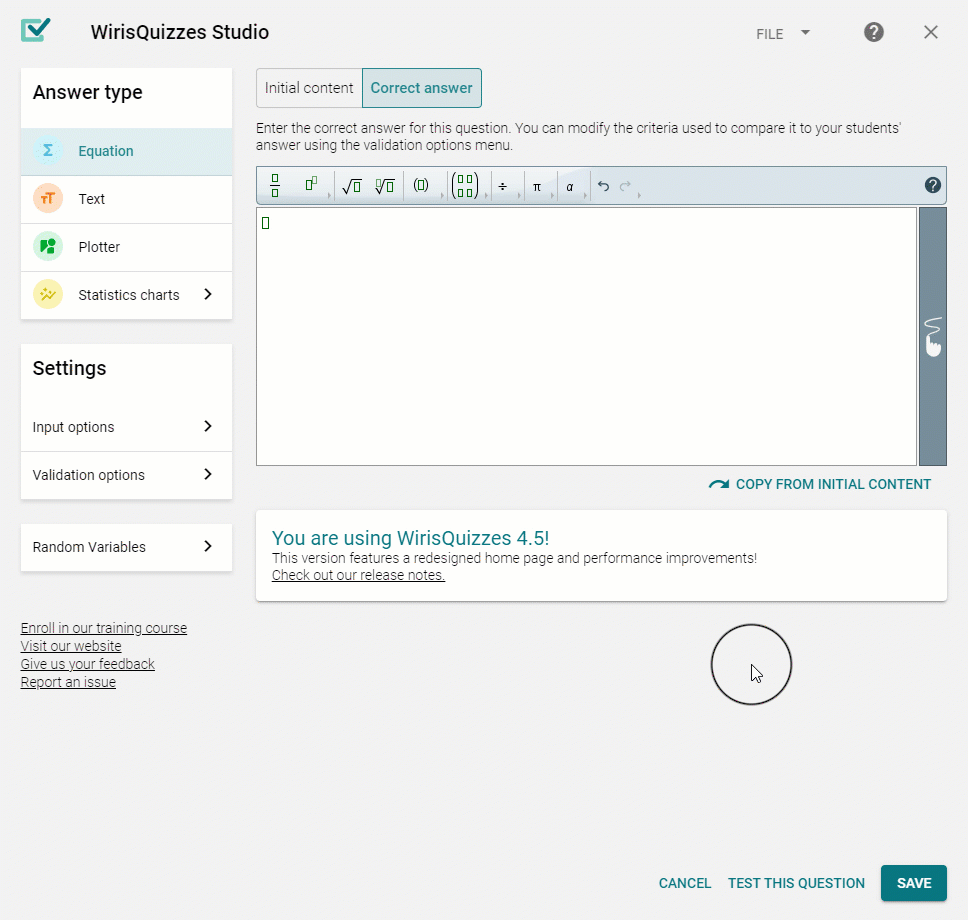 WirisQuizzes 4.5 is out, to become an early adopter, please contact your LMS admin to make sure you're using the latest version of WirisQuizzes.
Let us know what you think about WirisQuizzes 4.5 version by dropping us an email at team.quizzes@wiris.com. What's next?
Simplified Random Variables Feature - Basic vs Pro.

Change Settings Default Feature.
This is not a goodbye, but a see you very soon. Wish you a happy quizz-ing.